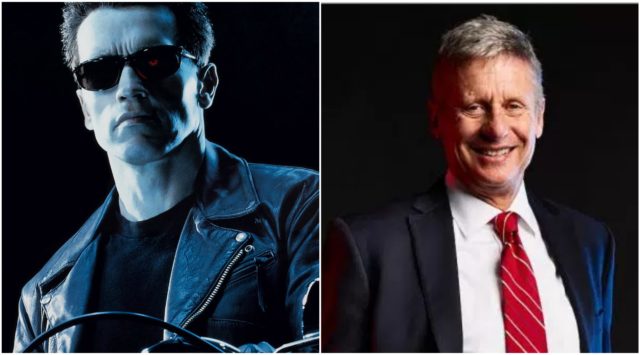 Arnold Schwarzenegger says Libertarian presidential nominee Gary Johnson and his running mate Bill Weld belong in the debates.




(THE HILL) "The American people want to hear the voices of Governors Gary Johnson and Bill Weld in the debates this fall — in a recent USA Today poll, 76 percent of voters said they deserve a spot on the stage. I completely agree," the former California governor wrote on his Facebook page Friday.
"Our political system benefits when we open the conversation instead of closing it — which is why I fought for and the voters passed open primaries in California and why I hope the Commission on Presidential Debates will listen to the people and include the governors."




Pressure is mounting on Johnson to secure a place in the first presidential debate scheduled for Sept. 26 at Hofstra University in Hempstead, N.Y.
The Commission on Presidential Debatesrequires third-party candidates to reach 15 percent in an average of five polls it has selected to qualify.
The Libertarian presidential ticket has just 15 days to improve its polling, which currently stands at about 9 percent nationwide.
Republican nominee Donald Trump on Thursdaysaid he would prefer Johnson and Green Party nominee Jill Stein to stay off the stage.




"I'd rather it be Hillary and myself. We're the only two with a chance at winning," he said on RT America Thursday night.
2012 GOP nominee Mitt Romney, a vocal opponent of Trump, has also called for the Libertarian ticket to be included in the debates.