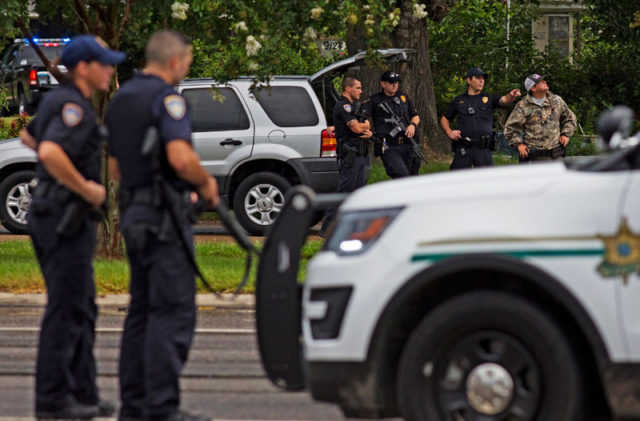 An Iraq war veteran identified by law enforcement as a "black separatist" fatally shot three police officers and wounded three others here Sunday, opening yet another chapter in the summer of racial unrest that has fractured American cities and exposed the vulnerability of police as targets in the continuing conflict.
The gunman, wearing black and carrying an assault rifle, shot the unsuspecting officers along a road that has been the scene of emotional protests sparked by the police shooting less than two weeks ago of a 37-year-old African American man selling CDs outside a local business.



Baton Rouge has been engulfed in racial protests since that shooting, and Sunday's events plunged the Louisiana capital into further turmoil — even as it was revealed that at least one of the dead officers, Montrell Jackson, the 32-year-old father of a 4-month-old son, was black."This is not so much about gun control as it is about what is in men's hearts," said East Baton Rouge Sheriff Sid J. Gautreaux III, appealing for the country to set aside its divisions and end the violence. "If we don't do that, and this madness continues, we will surely perish as a people."
President Obama, in yet another address to the nation made necessary by a fusillade of bullets in a city split by race, had a similar message: "Only we can prove that we have the grace and the character and the common humanity to end this kind of senseless violence, to reduce fear and mistrust within the American family, to set an example for our children," he said.
"That's who we are, and that's who we always have the capacity to be. And that's the best way for us to honor the sacrifice of the brave police officers who were taken from us this morning," the president said.
The gunman was identified as Gavin Eugene Long, a 29-year-old Marine Corps veteran from Kansas City, Mo., who a U.S law enforcement official said had a history as a "black separatist."



Long's service record included duty assignments at Camp Pendleton, San Diego and Twentynine Palms before his discharge from the Marines in 2010.Long appeared to leave a vast, anger-laden online trail documenting his interest in black separatism, fury at police shootings of black men, experience in the Marines and advocacy for vegetarianism.
Throughout his postings on social media, Long described violence as the solution to what he saw as oppression of black Americans.
"One hundred percent of revolutions, of victims fighting their oppressors, from victims fighting their bullies, 100% have been successful through fighting back through bloodshed," he says in one video.
Sunday's incident began just after 8:30 a.m. when Baton Rouge police officers and East Baton Rouge sheriff's deputies found themselves under sudden attack near a gas station and convenience store on Airline Highway, less than a mile from the Baton Rouge Police Department's headquarters, an area that has been the scene of repeated protests since the July 5 police shooting of Alton Sterling.
Police responded to a call of a suspicious person dressed in black and carrying an assault rifle, walking down Airline Highway near a beauty supply store.



"Supposedly a lady came up and said there's a subject walking with a coat and an assault rifle out here behind the store," an officer could be heard saying in a recording of the police radio channel posted to Broadcastify.com.Within minutes, the gunman opened fire.
"Shots fired, officer down!" another officer reports in the recording. "Shots fired, officer down! Got a city officer down! Shots fired! Shots fired on Airline!"
"I'm hit, I'm right in front of it," an officer replies shortly afterward. "By the carwash.
"I'm hit," he says. "Left arm. Argh."
By 8:48 a.m, emergency workers arrived, according to a timeline issued by the Louisiana State Police. Police then "engaged" the shooter, who died at the scene.
Gillian Rose Triche, 31, an Army reservist and nursing student who lives near the scene of the attack, described gunshots — one shot, then more "cracking and echoing." It sounded like an automatic rifle, said Triche, who served in the Army for 12 years.
In the confusion that surrounded the immediate aftermath, some local officials said two other suspects might be at large. Later, officials said the dead gunman was the only person who shot at officers.
"We do believe the person who shot and killed our officers, he is the person that we shot and killed," said Col. Michael D. Edmonson, superintendent of the Louisiana State Police. "We don't believe we have any shooters holed up."
Still, investigators were working to determine whether Long had help, Maj. Doug Cain, a spokesman for the state police, told reporters.
"We are not ready to say he acted alone," Cain said, noting that two "persons of interest" were picked up after the shooting and brought to the East Baton Rouge Violent Crimes Unit.
He was apparently referring to a report that two men in black T-shirts and camouflage shorts had acted suspiciously at a Wal-Mart store in Port Allen. The men, who drove a car with Texas license plates, were apprehended at a gas station in Addis, southwest of Baton Rouge, but they were later released.
There was every reason for police to be wary: Four young people were arrested last week and accused of plotting to shoot and kill police officers, part of what authorities described as a "substantial, credible threat" to harm law enforcement officers in the Baton Rouge area.
The incident is the nation's fourth high-profile deadly encounter involving police in the last two weeks. The shooting of Sterling on July 5, captured in an agonizing video, triggered a Justice Department civil rights investigation.
A day later, a police officer in Falcon Heights, Minn., fatally shot Philando Castile, a 32-year-old black man, during a traffic stop. On July 7, a gunman who claimed he was seeking revenge for Sterling's and Castile's deaths killed five police officers during a Black Lives Matter protest in Dallas.
Baton Rouge Police Chief Carl Dabadie Jr. choked up as he discussed Sunday's shooting. "This is not going to tarnish this city or this department," he said. "We will get through this."
East Baton Rouge Parish Mayor Melvin Lee "Kip" Holden, a black Democrat, urged the community to support law enforcement. "We are one family, all seeking justice for all of our people," he said.
The slain officers included two from the Baton Rouge Police Department: Jackson, who had worked on the force for a decade, and Matthew Gerald, a white, 41-year-old officer who had been with the department for less than a year. East Baton Rouge Sheriff's Deputy Brad Garafola, 45, was also killed. The father of four had been with the sheriff's office for 24 years.
Three law enforcement officers were injured; one is in critical condition, and two had non-life-threatening injuries.
Jackson, whose wife had given birth this year to their son, Mason, was a "great guy, one of the good cops," said Marcus Brown, a family friend who regularly saw Jackson. Brown said his cousin was married to Jackson.
"He would always throw events at his house for us married couples. We would go over and play games together," Brown said. "Video games, 'Madden,' things like that. He loved basketball. We would talk about sports all the time."
Kristi Godal, a friend and Jackson's next-door neighbor, said Jackson was the president of their neighborhood association and popular with residents.
"He had the best yard. His house always stood out," Godal said. "People are just flowing by the house, bringing food and in tears."
Since the shooting of Sterling and the ensuing protests, Godal had regularly chatted with Jackson in person and on Facebook about tension in the city. Their conversations grew after Jackson put up a Facebook post on July 8, lamenting the turn of events.
"I'm tired physically and emotionally. Disappointed in some family, friends and officers … but hey what's in your heart is in your heart. I still love you all because hate takes too much energy but I definitely won't be looking at you the same. Thank you to everyone that has reached out to me or my wife it was needed and much appreciated," Jackson wrote.
"I swear to God I love this city but I wonder if this city loves me. In uniform I get nasty hateful looks and out of uniform some consider me a threat. I've experienced so much in my short life and these last 3 days have tested me to the core…. These are trying times. Please don't let hate infect your heart."
The other day, Godal sent Jackson a message on Facebook encouraging him to stay positive. "You set the tone, I'm proud to know you…. You will be one of the legends, stay the course. God bless you," she said.
"Thank you! Lol!" Jackson wrote back.
Within hours of the shooting, Donald Trump, the presumptive Republican presidential nominee, took to social media to critique Obama's leadership. "How many law enforcement and people have to die because of a lack of leadership in our country?" he posted on Facebook. "We demand law and order."
Local and federal officials pledged full support as the investigation unfolds. Agents from the FBI and Bureau of Alcohol, Tobacco, Firearms and Explosives are on the scene, Atty. Gen. Loretta Lynch said in a statement, noting that the Justice Department  would provide victim services and federal funding support, as well as investigative assistance.
"Rest assured, every resource available to the state of Louisiana will be used to ensure the perpetrators are swiftly brought to justice," Gov. John Bel Edwards said in a statement.
As news of the shooting spread, police departments across the country — already on edge after the Dallas attack — were urged to remain cautious.
"As we monitor the incident in Baton Rouge, our officers are reminded to use caution and remain vigilant in their patrols," the Boston Police Department tweeted.
The Los Angeles Police Protective League issued prayers and sympathies to law enforcement officers' families and friends, as well as pointed criticism of politicians and "anti-police activists."
"To the civic leaders of our nation, the platitudes and "rhetorical support" for law enforcement must end and be replaced with action," the league said in a statement. "Now that ten law enforcement officers have been murdered in ten days, what will you do to keep our communities safe?  We need your actions, not your words."
Black Lives Matter activists involved in protests in St. Paul, Baton Rouge and elsewhere said they mourned the police deaths but said the movement would carry on.
"The movement began in response to violence," said DeRay Mckesson, a prominent Baltimore-based Black Lives Matter activist who was arrested during protests last week in Baton Rouge. "It has been motivated by a call to end violence. That call to end violence is the same today as it was yesterday."
For Tanya Sterling, Alton Sterling's cousin, a sense of normalcy had only slowly begun to return after his funeral on Friday. She said she was shocked, angry and saddened when her mother told her of the police officers shot on Sunday.
"So much chaos," she said. "I hate that it was my cousin who passed. I hate that it was him who died and for all this to have happened. I wish that none of this happened."
Read the original story here