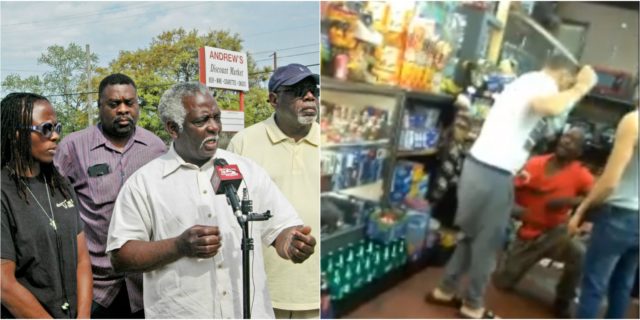 South Carolina state President of National Action Network, James Johnson, staged a protest in defense of a convicted black shoplifter, Tyrone Deon Mazyck, while harassing the store employees and owners who stopped the shoplifter with threats and racist remarks. Employees of Andrew's Discount Market stopped a shop lifter after he attacked store clerks with a knife and tried to steal incense. The protest included racist remarks, calls to the store harassing employees, and protesters outside of the store trying to keep customers from entering the store and calling for a boycott.




Civil rights leader, James Johnson's comments came during a news conference he organized after video of the store employees beating the thief surfaced on Facebook. His remarks included referring to market employees as "Arab" and "foreigner" and questioning if they legal citizens of America and telling them to "go back to their country." Johnson stated that "We want (the store owner) out of our community completely. We want him gone out of the community," "They need to go back to their country where their laws are different from our laws." Johnson and other protesters called to "close this store down now" could be heard.




**PLEASE SHARE FAMILY** 3/29 These Arabs in North Charleston, SC at Andrew's Discount Market 3744 Dorchester Rd. tortured this blackman, held him hostage with a gun and beat him with a sword because they said he stole something. ***UPDATE*** We successfully shut this location down until further notice.

Posted by Shakem Amen Akhet on Sunday, April 2, 2017
Johnson threatened the store:
"We sending a message to all the Arab and the foreigner stores in North Charleston and the city of Charleston that we gonna stop you from taking money from our community and putting none back in it," we are not going to allow these stores to "rape our community anymore."



A woman who was among the group grabbed a Post and Courier reporter's phone twice and threatened the journalist after she noticed a video was being recorded.
As Mazyck's supporters held signs on the sidewalk and told customers not to shop there, one man told a store employee that "Y'all can't be hitting on black folks like that."  The clerk replied inquiring why the people were talking about  "black and white," stating, "I'm brown, too. What's wrong now? I'm African. You don't know that?"
The shoplifter, Tyrone Deon Mazyck, 38, was arrested and charged with shoplifting after being caught on video trying to steal incense from Andrew's Discount Market on March 29. After cutting store employees with a knife, employees hit the suspect with a sword and pushed him around the store. According to an incident report, police found a pocket knife at the scene.
In addition to video surveillance, a witness recorded and posted three-minute video to Facebook. Mazyck supporters claim that the video shows him being being "brutalized" and held against his will.  The video shows Mazyck being hit in the leg with a wooden stick and a sword and being kneed.
Mazyck's family wants the employees to be held criminally responsible, but at this time, Mazyck is the only person charged with a crime. "That was an injustice," said the shoplifter's sister, Latoasha Mazyck about the beating that her brother received by store employees. A spokesman for the North Charleston Police Department, said detectives are investigating the video.
The Rev. Nelson Rivers, a North Charleston pastor who is vice president of religious affairs and external relations for NAN, said he spoke to NAN state president, James Johnson on Monday to express concerns about the comments Johnson made at the protest. Rivers said that discriminating against individuals based on their ethnicity is antithetical to what NAN stands for as a civil rights organization.