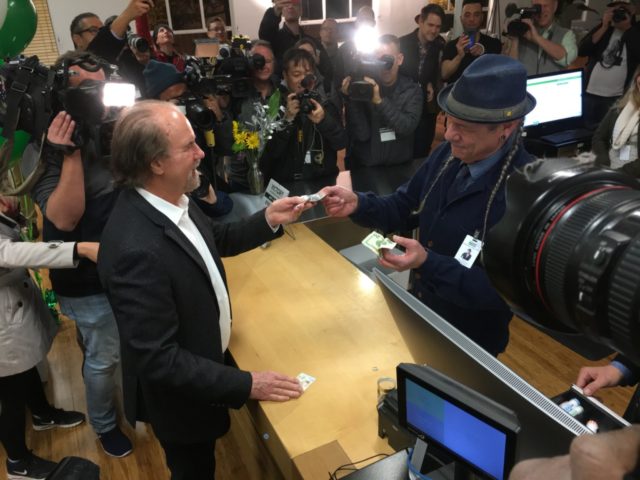 (Greenstate) In one of the many surprises from the launch of commercial cannabis sales in California on Jan. 1 was the backstory of the first buyer.
A former federal prosecutor turned legal mastermind of the marijuana industry named Henry Wykowski bought the Golden State's first legal bag of marijuana. 




Wykowski paid $20.01 cash for a gram of Neville's Purple at 6 a.m. on Jan. 1 at the Oakland dispensary Harborside. He didn't wait in line for hours, either. He's Harborside's tax attorney, so the purchase opportunity was a sort of gift from client to counsel for years of effective service.
Not only did cannabis prohibition end in California with a former federal attorney buying marijuana, but Wykowski did it in the very building he saved from federal asset forfeiture.
Wykowski is one of the world's top cannabis attorneys and specializes in complex white collar litigation like federal asset forfeiture and tax cases.
Among his many victories, Wykowski prevailed in federal court twice against prosecutors seeking to seize the state's largest dispensaries —

 

Harborside

 

and Berkeley Patients Group. Both cases were some of the biggest of the 2011

 

federal crackdown

 

on medical marijuana, and both ended in the government dismissing the forfeiture actions with prejudice, meaning they cannot be tried again for the same crime.
In 2017, Wykowski was in tax court battling for reasonable tax rates for lawful cannabis businesses. Under '80s-era tax law, licensed marijuana stores are treated like illegal street dealers and face taxation rates of as much as 80 percent. Harborside prevailing in tax court could help set national precedent.




We met up with Wykowski after his purchase at Harborside for a short Q&A:
GS: When you think back on the arc of your life, did you ever imagine it would lead to this point?
HW: I do remember when we used to smoke in New York and we talked about when we were going to be adults and cannabis would be legal and we'd go to cocktail parties where they'd be handing out not only wine but some joints.
The fact that it's now legal, I'm so excited about it, I'm — it's just — wow. It's a feeling that's hard to describe.
Continued on next page