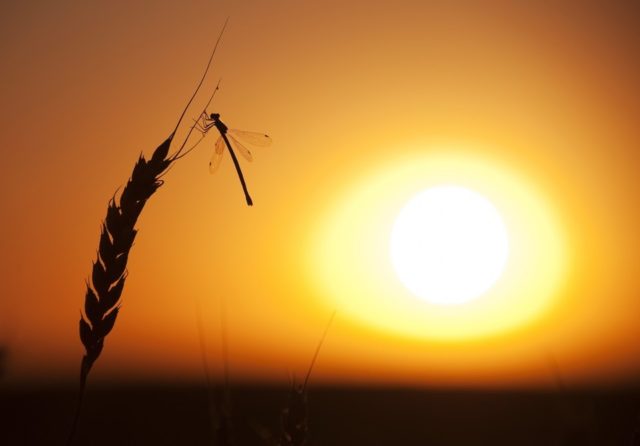 Insects may be in trouble, if a study published in the journal PLOS One is any indication.
Conducted over the course of 27 years, a German research team set up a series of malaise traps — tents that catch and funnel flying insects into bottles of alcohol — across 63 nature protection areas. Typically, such traps are used for general education purposes, but as the years went on, the team noticed they were collecting fewer and fewer insects. So much so that between 1989 and 2016, the total weight, or biomass, of the insects collected fell by 77 percent during the months between May and October.



The insects in the study included butterflies, bees and and moths, and the insects were collected from a range of habitats around Germany. The study notes that the findings are especially alarming since those habitats are in "protected areas that are meant to preserve ecosystem functions and biodiversity."
Causes for the decline are vague at best. Habitat loss, climate change and agricultural practices that include pesticides, are all likely contributors, but the study does not go into detail about drought events, lack of sunshine or the fact that many of the habitats are surrounded by agricultural fields in the findings.
Such a steep decline is cause for concern. Insects are a vital part of our food web, from being a source of food for birds to being pollinators for our crops. As insects decline, so do their ecosystems, and that has a ripple effect that reaches every organism on the planet.




That being said, as the Atlantic points out in its report on the study, if insects in Germany have disappeared as much as they have, why hasn't there been similar declines in flowers, birds, reptiles and the like?
"Some species could switch food sources, but we don't really know what's going on. We do know that we see declines in even common species, like blackbirds, starlings and sparrows," Hans de Kroon, who analyzed the study's data, explained to the Atlantic.
But it's also possible, as de Kroon noted, that the environments are just adapting the best they can to the population loss. But armed with this knowledge, we can work to improve the situation..
"We don't want people to get depressed," de Kroon said. "Ecosystems are very resilient. They're still functioning quite well despite this loss. Let's make use of that resilience. We can't wait till we know exactly what's leading to these losses. We have to act."
Source
MNN