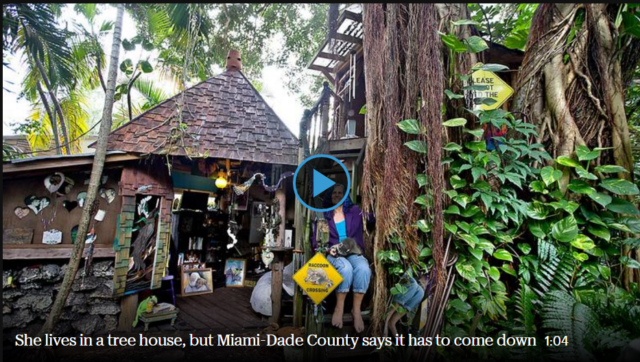 Yet another case of the government "protecting us" by destroying the lives of people who are harming no one.




(Newser) For almost a quarter-century, Shawnee Chasser has returned home in the evenings to a house in the trees, the latest one a wooden two-story structure built high above the ground on the Florida property where her late son used to live. But Miami-Dade County officials are now ordering the 65-year-old grandmother with purple hair, who says she can't deal with closed doors and windows, out of her open-air abode, saying the Biscayne Gardens cottage wasn't built to code and is unsafe—and she's got to destroy it within the next four months, the Miami Herald reports. "This has got to be my first time ever of somebody living in a treehouse," the county's code enforcement director says, adding that hurricanes in the state means they have to keep to the code, which includes getting permits for running water and electricity.






The property Chasser is on is a land trust owned by her daughter, and Chasser often charges fees to let people camp in the yard and rent out rooms in the legal home once occupied by her son, who died in 2009. Chasser was busted for her treehouse, which comes complete with a Home Depot ceiling fan and a resident raccoon named "Coonie," about a year ago when someone called the local 311 to complain about all the people coming in and out of the property.




Chasser—who hawks organic popcorn at Whole Foods and says living in her DIY home is "spiritual"—says she can't afford to bring the treehouse up to code (she's already paid $3,000 in fines) and doesn't want to be accused of being a fraud, as her Shawnee's Greenthumb Popcorn brags right on the bag about her unusual living conditions. "I'm not taking down anything. I'll chain myself to that treehouse," she tells the Herald, adding she may appeal the county's mandate.