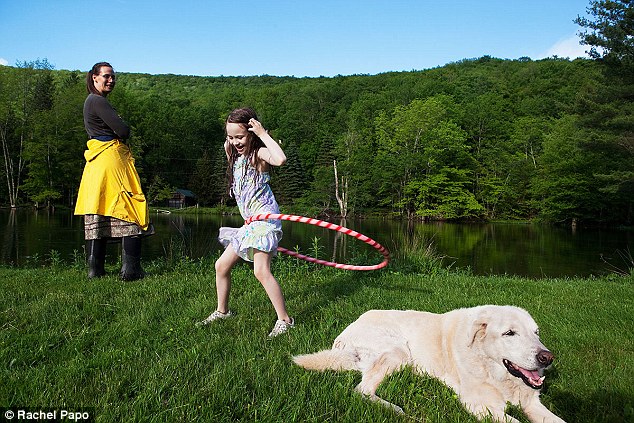 Home-education allows for tremendous opportunities to grow outside of the confines of standard Public Schooling, and yet, few are aware of what life is like in the homes of those who choose to teach outside the system. Rachel Papo wanted to change that.
Rachel Papo has compiled a collection of photographs of children who are homeschooled. She spent two years compiling the collection which shows children of all ages, and in all aspects of their lives.
Mostly Rachel has focused on the lives of the children in an attempt to capture the spirit of the way they grew up outside the classroom. The collection takes a look at children in the classrooms – which may also double as bedrooms, children at play and experimenting with nature, and the children at rest.The pictures give us a glimpse into the lives and routines of life outside the traditional schoolroom, and allow us to share some of the ways that the children learn. Some parents choose to integrate their children into nature, instead of study it from a book. Children learn to grow up with first hand experience of animals and how they live.
"I chose to focus particularly on the lives and routines of the children, in an attempt to capture their spirit, and the meaning of growing up outside the conventional four classroom walls," Papo wrote on her Kickstarter for her photo series entitled, 'Homeschooled' that can be pre-ordered in book form on the site by pledging $50 or more.
The collection shows unique shots of alternative ways that children can learn, with their parents all agreeing that homeschooling is the best method for their children. As criticism grows for traditional teaching methods, these parents agree with the alternative method of education. In an increasingly fast paced culture, this seems a way to slow life down to a point where children can learn from nature.
"As the criticism of the U.S. education system grows among parents, so does the appeal of homeschooling. Together with today's increasingly fast-paced, connected culture, this choice seems an almost natural one for many families," writes Papo.
"Though still a controversial and heated topic, the number of homeschooled children in America is growing rapidly. For the past year and a half I have been photographing a small number of families living in the Catskills who practice homeschooling," she adds.
The amazing collection of children and their school activities can also be purchased in book form.
"I devoted two years to my photographic research and the result is a quiet meditation on the home education movement, from the children's perspective. As I was photographing them I allowed myself, for a few hours each time, to escape into their mysterious, magical world – one which emphasizes an embrace of nature in environs that nurture the imagination," writes Papo.