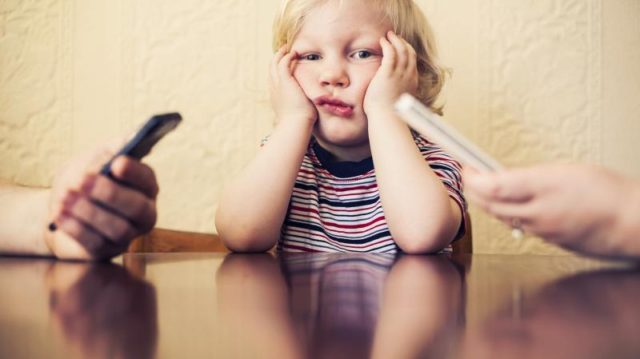 Parents may feel like the constant love and attention that children receive makes up for the little time spent here and there on text messages or Facebook checks. However, a new study shows that it takes very little parental distraction with technology for children to exhibit behavior problems.
Previous studies have shown that technoference, or interferences caused by technology, can damage couple and co-parenting interactions, but no studies on technoference between parents and children existed until now.



Professor Brandon McDaniel of Illinois State University surveyed 170 U.S. families and correlated parent distraction with technology to child behavior problems. The average age for mothers and fathers were 31.82 and 33.34 years old, respectively, and most families had more than one child.
The results showed that techno-ference increased behavior problems in children. The problems included acting out, turning inward with feelings, exhibiting aggressive behavior, or crying spells.



The study states that techno-ference may occur during face-to-face conversations or routines such as mealtimes or play and can make children feel like an intrusion has occurred when a parent interacts with digital technology during time together. The study shows it takes just a small amount of interference for a child exhibit behavior problems.
On average, mothers and fathers perceived that two devices interfered with interactions with their child at least once a day. Almost half of the families reported techo-ference 3 or more times a day. Mothers perceived their phone use as being more problematic than fathers, but both mothers and fathers associated interference with greater behavior problems and more child screen time.
McDaniel admits that the study was limited due to the use of parent self-reports of both the use of digital technology and child behavior.
"We need to critically examine our device use. This is just the day and age that we live in. These devices are designed to absorb our attention," McDaniel said. "Yes, you're going to be distracted sometimes, but we need to try to minimize those distractions, realizing that your children are not always going to be little."
His words are a reminder to parents that they are in this for the long haul, and that present interactions with children shape their adulthood.  So, even if we use technology to talk about and record our children, it breaks our attachment with them. They don't understand our desire to share their cuteness with the world; they only view it as an intrusion upon our relationship with them, and we are modeling our addictions to technology to them.
Professor Brandon McDaniel researches and teaches about family relationships, parenting, child development, and media/technology in family life. He says "My work is focused on understanding many of these "new age" influences on family relationships so that we are better able to serve families' and children's needs and improve the quality of their relationships."